Please Help!
According to Most Reverend Philip Anyolo, Bishop of the Homa Bay Diocese in Kenya, "It is estimated that six million children will die this year from malnutrition before their fifth birthday. Many of these infants will pass away quietly in the most remote areas, far removed from the scrutiny and conscience of the international community. Due to the extreme urgency of these and other pressing needs, a request from every parish in America is inevitable..."
Feed a Starving Child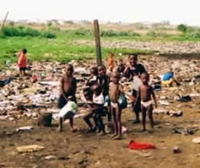 The Children's Food Program begins when an African pastor chooses seven women from his congregation to prepare food for the poor. In some situations, the women give out small bags of beans and rice to impoverished families. In other areas, the women prepare a community dinner.
After the poor, disabled, and elderly gather in an open field, the pastor proclaims the good news of God's extravagant love. After the pastor shares the Gospel message with his guests and prays a blessing over the meal, the food is served.
Little kids who have been living in extreme poverty come with their parents to receive a great blessing. Before long, excitement about the community dinner spreads throughout the region. After seeing and experiencing the love of Christ, many of the recipients have a newfound desire to join the church.
Please consider making a tax-deductible donation to one of our existing food programs. One hundred percent of all donations goes directly to the poor.